Dennis Fukai of
Insite Builders
has been writing books on SketchUp since 2004. I met him way back at SketchUp's first Base Camp in 2005, where he was showcasing his then-new book "3D Construction Modeling." Dennis is an architect who worked for 30+ years as a construction manager, and his books fulfill his other career wish: graphic design. His books consist mainly of simple and clear screen captures, annotated with comic-book style callouts. Light on text, easy to follow.
He recently sent me a copy of the latest version of his original book; this one is called
Mastering the Art of 3D Construction Modeling.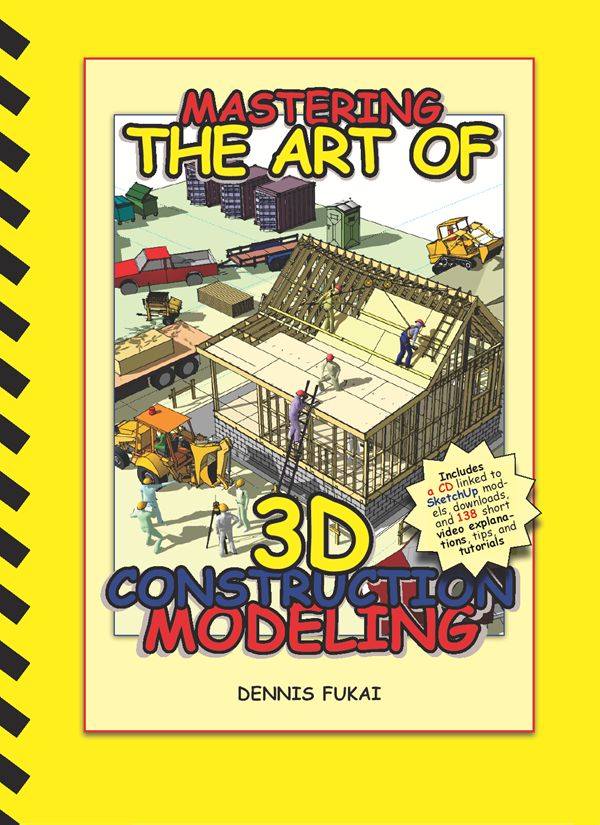 This book consists of two separate things: the book itself and an accompanying CD.
The CD includes a series of short, illustrative videos, divided by chapter. Viewed in order, the videos show how to use SketchUp to accomplish each chapter's topic: site setup, excavation, floor framing, wall framing, roof framing, etc.
Here's an example of one of these videos:
(The videos are on YouTube, but they're much more useful and informative when viewed in order, in conjunction with the book.)
For each chapter, the CD also contains several "tips and tricks" videos, which show how to use a particular tool for a construction goal. (For example, the Foundations chapter has one T&T video on using the Move tool for spaced copies, and another T&T video on using the Outliner to organize foundation pieces.)
The CD also provides a completed SketchUp model for each chapter, which you can use to deconstruct and build back up according to the videos' instructions. Some chapters also have links to SketchUp models you can use as components, so that you don't always have to rely on the sometimes-unreliable 3D Warehouse. The resources chapter shows where to find shortcuts, buzzwords, checklists, templates, software downloads, and other books and tutorials.
The printed book itself a basically an illustrated index for the videos. So the best way to get the most of the whole package is to plug in the CD, play the videos one by one, and follow along in the book. If you want to get your hands dirty and REALLY learn this stuff, open the chapter's provided SketchUp model, and recreate the results of each video, one by one.
Here's a sample page from the book, which shows Dennis's graphic style: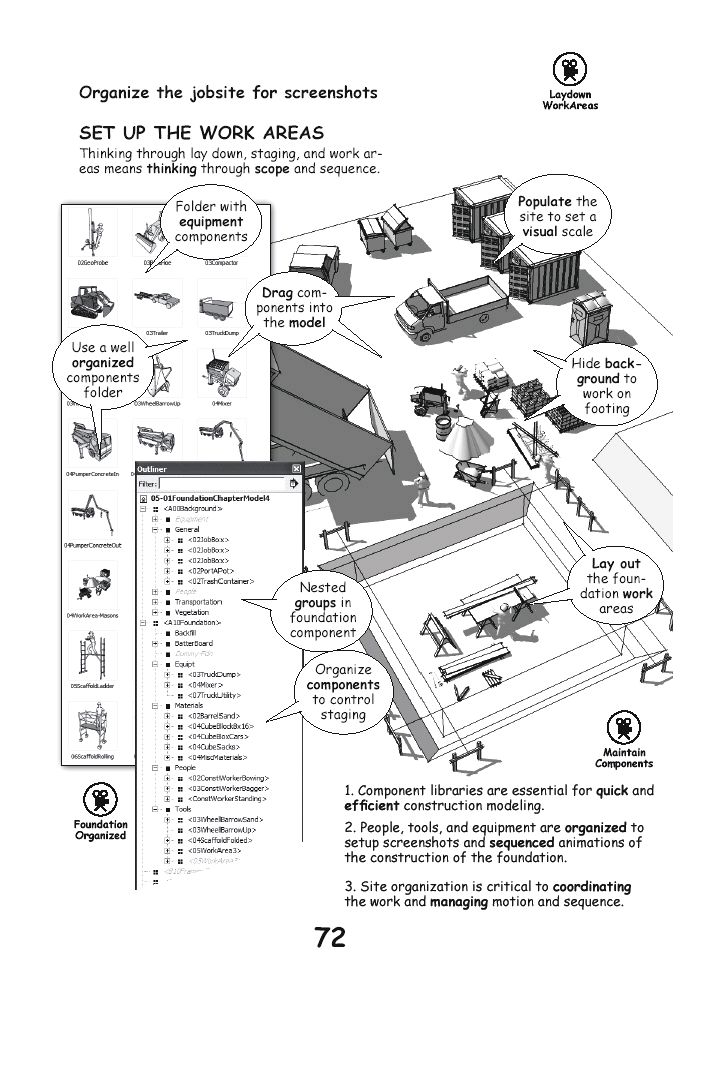 Right from the start, Dennis gets you familiar with the tools and features that construction modelers (as opposed to architects or designers) need: layers, scenes, Outliner, guide lines, scaling and sizing, etc. The order of the book matches the order of an actual construction project, and the final result describes the building
process
, as opposed to product. Dennis's goal is to show you how to produce models you can use to easily convey this process to the entire construction team.
The book and CD are a bargain at $29.95, and are available on
Dennis's site
(free US shipping!) and
Amazon
. It's worthwhile to check out his other books as well, all of which use the same graphic style. (I personally like
Living Small
since my husband, 5 kids, and I are crammed into a pretty small house!)
Anyone can design anything in 3D!
http://www.3dvinci.net/